In the heart of the stunning landscapes of Maui, lies a unique and rejuvenating experience that brings the essence of relaxation and healing directly to you. Introducing Maui Mobile Massage Services by Massage Maui Style – a personalized approach to wellness that allows you to immerse yourself in the soothing touch of expert therapists without leaving the comfort of your chosen location.
The Power of Healing at Your Doorstep
Imagine the gentle sound of waves crashing on the shore, the rustling of palm leaves in the breeze, and the sun-kissed beauty of Maui enveloping you as you embark on a journey of relaxation and rejuvenation. With Maui Mobile Massage Services, this dream becomes a reality. Our skilled massage therapists are dedicated to bringing the healing power of touch to your doorstep.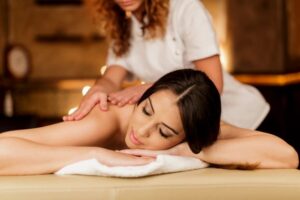 Tailored Treatments for Every Need
At Massage Maui Style, we understand that every individual's needs are unique. Whether you're seeking an escape from the stresses of daily life, recovering from an auto accident, or simply looking to indulge in a couples massage retreat, our diverse range of treatments has you covered. From the classic serenity of Swedish Relaxation Massage to the targeted relief of Deep Tissue and Sports Massage, our therapists are experts in tailoring the experience to your specific requirements.
Seamless Convenience
Gone are the days of navigating traffic or rushing to appointments. With Maui Mobile Massage Services, convenience is at the forefront. Our therapists arrive at your location, whether it's your hotel room, vacation rental, or a tranquil spot by the beach. This seamless approach ensures that your relaxation journey begins the moment you step into your chosen environment.
A Rejuvenating Getaway
Escape the ordinary and immerse yourself in a world of tranquility and healing. With the mesmerizing beauty of Maui as your backdrop and the skilled hands of our therapists as your guides, our mobile massage services promise a rejuvenating getaway like no other. Whether you're looking to revitalize your body, mind, or both, Massage Maui Style is your gateway to a renewed sense of well-being.
Book Your Wellness Journey Today
Embark on a voyage of self-care and revitalization with Maui Mobile Massage Services by Massage Maui Style. Let the serenity of the island and the expertise of our therapists transport you to a place of ultimate relaxation and healing. To book your personalized session, visit our website at MassageMauiStyle.com and take the first step towards embracing the tranquility that Maui has to offer. Your well-being is just a click away.