Massage has been practiced for centuries as a way to relieve pain, promote healing, and improve overall health. Many people visit massage therapists to treat chronic conditions, recover from surgery, or simply relax and de-stress. In recent years, the popularity of massage therapy has surged, and today there are many different types of massage available. Massage Maui Style is a most trusted massage parlor that provides high-quality massage to clients in the comfort of their own home.
Healing Massage Maui is a massage therapy that includes a variety of activities to cater to the unique needs of their customers. Services include Swedish massage, deep tissue massage, sports massage, trigger point therapy, and prenatal massage. As a renowned Massage services provider, we provide the most relaxed services that you can never anywhere. Our therapists are highly skilled in working with specific areas of tension and pain. They developed their own technique, which blends Swedish and deep tissue to provide maximum relaxation to the customers.
Our Healing Massage Services Include
Massage has been used for centuries to promote healing in the body. A therapeutic massage provides many benefits such as reducing stress, improving circulation, boosting the immune system, and relieving pain. Our licensed massage therapists are experienced in providing a variety of massage techniques that will help you achieve your health goals. In addition to our traditional massage services, we also offer corporate chair massages, Swedish Massage, Deep Tissue Massage, and Hot Stone Massage.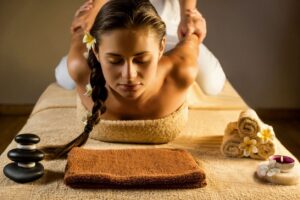 We provide complete Healing Massage Maui services, from a single session to a monthly wellness plan. Our talented and certified massage therapists will work with you to customize a massage plan that meets your specific needs and schedule.
Swedish Massage
Deep Tissue Massage
Hot Stone Massage
Hand And Foot Scrubs
Prenatal Massages
Advantages Of Our Healing Massage Therapy
The benefits of Healing massage treatment are well-known all throughout the world. Our healing massage therapy has been shown to be effective in treating a wide range of illnesses. Extremity pain reduction, increased blood flow, enhanced mood, reduced physical and mental pressure are just a few of the benefits that we provide to our clients.
Massage therapy is also quite effective at removing toxins from the body. Our healing massage therapy combines all of the benefits to create an all-natural treatment that can help a person's body perform at its best in all aspects of health.
Stress Reduction
Massage has been used as a stress reliever for ages. Massage does, in fact, greatly alleviate physical and psychological stress.
Massage therapy has been shown in clinical research to boost the production of endorphins (natural chemicals that make you feel good), serotonin, and dopamine while lowering cortisol levels, heart rate, blood pressure, and oxygen consumption, all of which are stress-related characteristics.
Assists In The Reduction Of Anxiety
It's not just your imagination when you feel elated after a massage. In reality, several recent studies show that researchers can assess the influence of massage on those who have experienced emotional trauma. Massage has also been demonstrated to have a positive effect on people who suffer from severe anxiety.
Eases Muscle Tension
People are in Maui more stressed than ever before, both psychologically and physically, as a result of the intricacies of modern suburban living. Back injuries, joint stiffness, and muscular strain are all on the rise as a result. Unfortunately, medical professionals do not believe this tendency will change. Therapeutic massage, on the other hand, may help to mitigate the effects of muscle tightness.
Provides Muscle and Joint Pain Relief
The body of evidence supporting massage for the treatment of muscle and joint pain is overwhelming.
Whether you have persistent back pain, knee osteoarthritis, hand arthritis, or any other kind of rheumatism, massage has been shown to enhance range of motion and general function.
Why Choose Massage Maui Style?
A team of professional therapists.
In the last many years, we have provided massage services to many people across the city.
Our services will be 100% genuine with no fake commitment.
All packages at Massage Maui Style are very affordable.