A massage is a great way to relieve stress and tension in the body. At our Massage Maui Style, we offer a variety of treatments that will help you feel your best. Our experienced therapists will work out the kinks in your muscles and leave you feeling refreshed and rejuvenated.
We provide complete Massage services in Wailuku. Our massage therapist are licensed and insured. We offer a variety of massage services such as Swedish, deep tissue, hot stone and prenatal.
If you're looking for a relaxing and rejuvenating massage, look no further than our team at Massage Maui Style. We offer a variety of services to suit your needs, including Swedish massage, deep tissue massage, hot stone massage, and more. Our licensed and certified therapists are experienced in providing top-quality care, so you can rest assured that you're in good hands. Contact us today to schedule your appointment!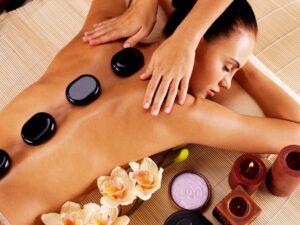 Our massage has been shown to have many benefits, both physical and mental. Some of the key benefits of massage include:
Improved circulation
Release of tension in the muscles
Improved joint mobility
Reduced stress and anxiety
Improved sleep quality
Our Wailuku Massage Services Include
On behalf of our team at Massage Maui Style, we would like to welcome you to work with us at the comfort of your Wailuku vacation home or location. We also offer services at Carolina De Calisto's office space in Kihei One person at a time only.
Our focus is on massage therapy and the many ways it can improve your overall health and well-being. Our services are available to everyone in the community, and we strive to make each visit a positive experience. At our Massage Maui Style, we offer a variety of massage services to help you relax and rejuvenate. Our experienced massage therapists will work with you to customize a treatment that targets your specific needs. Whether you're looking for a deep tissue massage, a Swedish massage, or something more specialized, we have the perfect treatment for you. Take some time for yourself and indulge in one of our luxurious massages today!
Swedish Massage
The most popular and well-known style of massage is Swedish massage. It entails kneading and stroking the muscles with pressure, as well as lengthy, smooth strokes. The therapist can apply pressure with his or her hands, forearms, elbows, or feet. Swedish massage has been demonstrated to help with stress relief, anxiety relief, muscle tension relief, and pain relief. It also has a variety of other advantages, including increased circulation, joint mobility, and range of motion.
Full Body Massage
Massage therapy is well known for its numerous advantages. Massage can help the body and mind in a variety of ways, from stress reduction to tension headache relief. Many people, on the other hand, are unaware of the entire range of massage advantages. Full-body massages are available at Massage Maui Style. We feel that using this approach helps us to give our clients with the best service possible. Our therapists are highly trained and employ a variety of techniques to treat various parts of the body.
Aroma Therapy Massage
Massage is a crucial element of overall health and fitness, according to Massage Maui Style. As a result, we provide a wide range of treatments, including aromatherapy massage. Essential oils are used in aromatherapy to enhance healing and well-being. Essential oils are absorbed through the skin and can have a number of impacts on the body, including stress and anxiety reduction, improved sleep quality, and increased energy levels. If you're seeking for a revitalizing and relaxing massage, we can assist.
Hot Stone Massage
Warm, smooth stones are utilized to execute a range of massage treatments as an extension of the therapist's hands. The therapist places the stones on particular areas on the body and utilizes them to apply pressure and heat. The purpose is to soften tissue, relax muscles, increase circulation, and accomplish various health advantages.
Deep Tissue Massage
Deep tissue massage is one of the many advantages of massage. Deep tissue massage is a type of massage that concentrates on the muscle and connective tissue layers beneath the skin. It relieves chronic pain and tension, enhances mobility, and reduces stress and anxiety after exercise. Consider booking a session with our skilled staff at our wellness center now if you're looking for relief from chronic pain or tension, or simply want to improve your general well-being.
Lomi Lomi Massage
We are a group of professionals who are deeply committed to the healing practise of Lomi Lomi massage. Our service aims to provide a genuine and holistic experience that will leave you feeling deeply refreshed and invigorated. We provide both in-home and out-of-home services, and appointments are accessible seven days a week. We encourage you to experience the magic of Lomi Lomi massage if you're wanting to relax and energise your body, mind, and spirit.